If you are a been there done that mom,you know how important it is to have a great swing. I am doing a review on my son's swing. It is the Fisher-Price Papasan Cradle Swing. You have a baby that likes to be held,well sometimes you just have to put them down so that you can get some things done around the house,then this is the swing for you. Surrounded by plush, cozy fabrics and a canopy that cocoons baby, this soothing swing features 8 tunes and a side-to-side cradle motion that's similar to the way you rock baby in your arms. It also goes in a forward swinging motion as well as 6 swing speeds and an attachable toy bar for when your child gets a little older.Weight limit is 25 lbs.
My son loved it and used it until he outgrew it. I got so much use out of it and it is now ready for our newest edition Aubree who will be here in October :)
Here is a picture of my son in the Fisher-Price Papasan Cradle Swing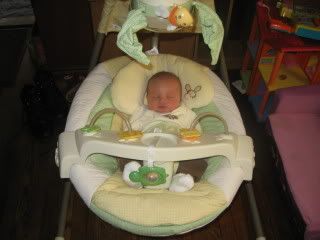 I definitely recommend this swing to another mother or a first time mommy to be!